It is our pleasure to share with you all of the topics we covered in 2021 with our partners across the country. The links below highlight the great work of our clients across the nation who contend with the same challenges that you do everyday. We had some amazing developments in 2021, including but not limited to: completing the BNY Mellon Accelerator program, awarded the Texas BuyBoard contracts, as well developing a new client portal that will release the first quarter of 2022. In case you missed any of the incredible insights from 2021, those resources are recapped below.

Watch Kitty Crow of Chautauqua County as we present her cashVest 90+ award for the incredible work that she and the county's legislators have accomplished in 2021, earning her the first-ever cashVest score of 100.
---
NACo 2021 Webinars

Featuring Comptroller John M. Kennedy, Jr., Chief Fiscal Officer of Suffolk County, NY, and how he uses three+one®'s liquidity data, technology, and treasury services data to currently outperform the effective federal fund's benchmark by over 238%.

Nationally recognized Treasurer Scott German of Genesee County, N.Y. discusses how he has maximized the value of Genesee County's cash through liquidity data & treasury service monitoring. Over the past 4 years, Treasurer German has leveraged technology and followed data findings in order to shift strategies and navigate various economic cycles resulting in a cumulative benefit of over $3 million dollars to his taxpayers.

NACo joins three+one for a conversation with Bill Cherry, former Schoharie County Chief Financial Officer and Treasurer, and three+one CEO Joe Rulison for a treasurer's perspective on liquidity verses cashflow.

Here Alex DeRosa speaks to Administrator Ian Coyle and Treasurer Amy Davies of Livingston County, New York to discuss the "Pathway to Recovery®" and how liquidity management can position your entity for success managing ARP Funds in 2021 and beyond.

In this presentation, Alex DeRosa and finance officials from Chemung County, New York discuss the lessons learned in liquidity management over the past 18 months and how public entities are using liquidity data to stay ahead of the curve on their Pathway to Recovery®.

In this presentation you will meet Commissioner Sean Kertes and Director of Financial Administration Meghan McCandless of Westmoreland County, PA, and hear how their county maximized the value of their cash through liquidity data and banking-services monitoring, outpacing benchmarks by 400%.
---
MACo Podcast

In this podcast, Garrett Macdonald joins Kevin Kinnally and Michael Sanderson of MACo to discuss a data-driven approach to help counties maximize the value of every single dollar through the power of liquidity analysis.
---
VACo Webinar

During this April 14th presentation you will hear from Garrett Macdonald, Vice President of cashVest® by three+one®, discusses how cashvest® by three+one® helps counties maximize the value of every dollar on deposit.
---
CSAC Webinars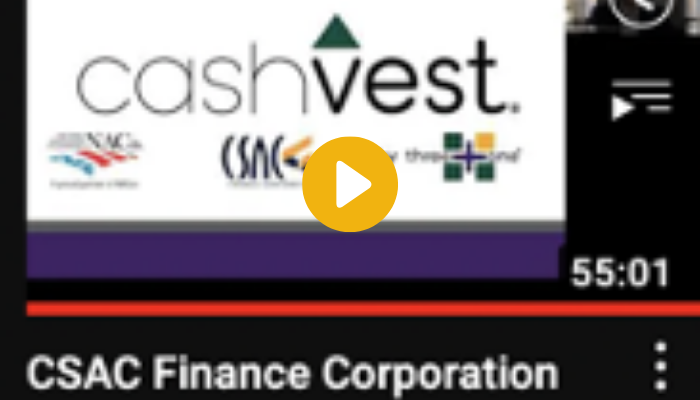 CSAC Finance Corporation presents 3+1's CashVest – Leveraging Data to Maximize Public Value

Passage of the American Rescue Plan Act certainly changed the cash/liquidity position of public entities across the nation. This webinar will focus on how to get a clear picture of your liquidity needs, how to use data to communicate those needs to internal & external stakeholders, and how to meld cash flow management into liquidity management.

This 20-minute webinar will demonstrate how your entity can leverage data and technology to formulate a strategy that increases the value of public funds. We will highlight important steps and tips that can be applied to stretch newly released ARPA funds to their greatest potential.
---
NYSAC Podcast

During this episode of County Conversations, NYSAC's Executive Director Stephen Acquario is joined by Joseph Rulison of three+one to discuss new technology, financial forecasting, and planning for the future.
---
Timeout With Leaders Podcast
We really enjoyed this spirited podcast titled "Celebrating Employees Constantly" featuring our CEO and co-founder, Joe Rulison.