2020 cashvest® 90+ and National Leadership Award
three+one® is pleased to announce the public entities and higher Ed institutions that are the recipients of the 2020 prestigious 90+ cashvest® Award.
This award signifies the excellence in the implementation and management of all liquidity in the public marketplace set by three+one. To qualify for this award, an entity must have received a cashvest® score of 90% or above for four consecutive quarters.  It should be mentioned that multiple qualifiers are calculated into the cashvest® score to determine the rating. The five qualifying categories include:
-Percent of available funds providing value
-Liquidity proficiency
-Warnick rate indicator®
-Cashflow optimization
-Investment policy practices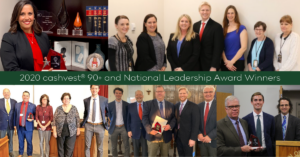 A cashvest® score of 90+ signifies to the country, state, and taxpayers that these counties have achieved the highest value available on financial resources. The following counties have met the criteria to receive the cashvest® 90+ Award by achieving a score above 90 for four consecutive quarters. They are:
Counties:
Beaufort County, South Carolina; Hon. Maria Walls, CPA County Treasurer
Chautauqua County, New York; Ms. Kitty Crow, Director of Finance
Orange County, New York; Comm. Karin Hablow, Commissioner of Finance
Rensselaer County, New York; Mr. Mark Wojcik, Chief Financial Officer
Wayne County, New York; Hon. Patrick J. Schmitt, County Treasurer
Cities:
The City of Dublin, Ohio; Mr. Matthew Stiffler, Director of Finance
The City of Huber Heights, Ohio; Mr. James Bell, Director of Finance
The City of New Albany, Ohio; Ms. Bethany Staats, Director of Finance
Towns:
Town of Aurora, New York; Hon. James Bach, Supervisor
Town of Batavia, New York; Hon. Gregory Post, Supervisor
Town of Perinton, New York; Mr. Brian Dick, Director of Finance
Colleges/Universities:
Dickinson College, Pennsylvania; Mr. Sean Witte, Vice President for Financial Operations
Jefferson Community College, New York; Mr. Daniel Dupre, Vice President for Finance
University of Redlands, California; Dr. Ralph Kuncl, President
In addition, this year's National Leadership cashvest® Award recipient is the Honorable Scott D. German, Treasurer of Genesee County, New York. This prestigious award recognizes and acknowledges the leadership that Scott has demonstrated, both statewide as well as nationally, in establishing and practicing the highest possible standards of financial governance and liquidity management.
Treasurer German has been a leading advocate for the implementation of best practices in identifying and managing all levels of cash as a revenue-generating asset. The new innovations he has adopted in treasury services have strengthened the protection of taxpayer monies entrusted to him while also significantly increasing interest revenues for his county.
Congratulations to this year's cashvest® award recipients!