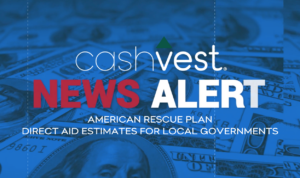 With the American Rescue Plan having recently cleared in the Senate, and the House taking up that version of the legislation this week, Congressional leaders are signaling final passage in the coming days with swift signing expected by the president.
The $1.9 trillion COVID-relief bill provides for the direct aid to local governments for which our team at three+one® and our partners at NACo have been advocating. We have an early glimpse at what those allocations to state and local governments are estimated to be, and as a continuing resource for public entities on the Pathway to Recovery®, we share this breaking news with you here:
Given the proposed new structure of the direct aid payments and the deadlines to which local governments must adhere to receive funding, liquidity analysis and data will be critical in managing these dollars. Fortunately, our team is prepared to guide you through this next round of economic stimulus, as we have for our public sector partners during previous rounds.
These relief dollars are critical to ensure local entities have the resources necessary to combat a global pandemic, but also to simply continue to function against the day-to-day demands of local governance. Because of that, these are also the type of dollars that need the tested & reliable liquidity management strategy from three+one®.
As a proud partner of NACo, cashvest® by three+one® is a financial-tech resource specifically for public sector entities. Let's get you on the Pathway to Recovery® by calling us at (585) 484-0311 or contacting us here.