Do you ever enter your office to face a wall of anxiety and worry that results in unexpected stress, triggered by questions like:
How are we going to balance our budget with unexpected costs?
Are we fraudproof?
Are we getting the best rates?
Are we prepared for the annual audit?
Do we get the most out of our banking relationships?
Do we have strong liquidity just in case?
How will the public and press react?
Where can we save more money? 
Where do we find new sources of revenue? 
How do we handle all this work with less staff?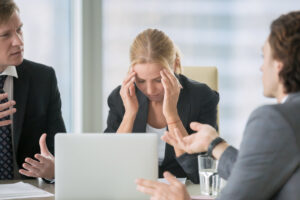 These are just a few of the worries that go through one's mind in a finance office that create anxiety and lead to stress – not an uncommon occurrence for those serving public entities or higher Ed institutions, especially given the lack of resources, budget pressures, and ever-increasing expectations of accountability by those they serve. 
There are some stresses that can be alleviated, however, allowing one to perform more finance functions that can actually lead to new sources of revenue.
Here are five ways to ease stresses on your staff and yourself:
1) Look to outside partners who can fill voids. Bring in additional expertise. View vendors not as an expense, but rather as cost saver or revenue-center provider.  This should not be seen as a weakness but rather a strength and a confidence builder in driving results, efficiencies, and cost savings or new revenue initiatives. 
2) Drive for greater technology, allowing enhanced productivity and filling in for lower staff levels.
3) Conduct weekly team meetings to provide transparency and allow feedback. The more involved all team members are in decision-making and projects, the greater their productivity and positive attitude.
4) Treat the public as customers by caring, listening, and striving to solve their problems. When a taxpayer walks to the counter, a positive response to your assistance will result in a positive outcome, even if a problem could not be entirely solved. Caring goes a long way and the level of tension does not escalate.  A terse exchange can make everyone's day stressful. Statistically, one bad experience will be passed on to 25 other people, which causes major reputation risk. 
5) When vendors come knocking at the door, treat them with respect. As a public official and business owner, there have been many times I have been given a cold reception without an opportunity to even introduce myself. You never know who that person may be or whom they know. A brush-off or a disinterested attitude at the front counter can easily spread throughout the office and be interpreted as an acceptable behavior that may carry over to phone calls and emails. 
At three+one® our mission is to alleviate stress, create new sources of revenue for those you serve, while providing stronger bonds between you and your financial institutions. Through diagnostic liquidity analysis, three+one® is able to provide time-horizon data, allowing an entity to maximize marketplace value on all cash.
Just imagine creating a new revenue source without all the anxiety, worry, or stress. Now that's something to celebrate with those in your office and with those you serve.