cashvest® by three+one® was honored to present last week to the GFOA of South Carolina, and to sponsor this incredible virtual conference of public finance officials. Our team provided data-driven insights on maximizing value on public dollars during & after COVID-19.
We invite you to share in this presentation and learn more about getting your public or higher-ed entity on the financial Pathway to Recovery®.
As an industry leader in FinTech, three+one® was thrilled to share our key tools & resources via virtual booth with public entites this year at GFOA-SC.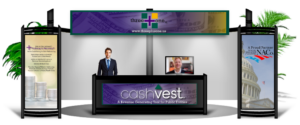 "It is so important to link liquidity data together with marketplace opportunity."
– Garrett Macdonald, three+one® Senior Vice President